Essentials to Financial Success
State Housing Agency Loans and DPA Programs may be excellent options for you if:
You're a first-time or repeat homebuyer; and
You have low- to moderate-income, are an underserved minority, are disabled or elderly, or work in certain professions (like teaching or the military, depending on the state);and
You want a low-interest mortgage rate and/or down payment assistance.
State Housing Agency Loans and DPA Programs benefits and features:
State Housing Agencies typically provide low-interest mortgage rates and DPA programs, which vary by state.
DPA is commonly provided in the form of a grant or a loan, which is secured as a lien against the property and often forgiven over time.
DPA is also available in some high-cost housing areas, where DPA eligibility may be based on factors other than income. 
Other requirements and conditions apply.
Homeowners Insurance Information
When you insure your home, you should insure your home for the total amount it would cost to rebuild your home if it were destroyed. If you don't have sufficient insurance, your insurance company may only pay a portion of the cost of replacing or repairing damaged items.
There are three ways to insure the structure of your home:
Replacement Cost: Insurance that pays the policyholder the cost of replacing the damaged property without deduction for depreciation, but limited to a maximum dollar amount.
Guaranteed Replacement Cost: Insurance that pays the full cost of replacing damaged property, without a deduction for depreciation and without a dollar limit. This coverage is not available in all states and some companies limit the coverage to 120 percent of the cost of rebuilding your home. This gives you protection against such things as a sudden increase in construction costs due to a shortage of building materials.
Actual Cash Value: Insurance under which the policyholder receives an amount equal to the replacement value of damaged property minus an allowance for depreciation. Unless a homeowner's policy specifies that property is covered for its replacement value, the coverage is for the actual cash value of the home.
For a quick estimate of the amount to rebuild your home, multiply the local building costs per square foot by the total square footage of your house. To find out the building rates in your area, consult your local builders' association or real estate appraiser.
Factors that will determine the cost to rebuild your home:
The square footage of the structure
The type of exterior wall construction: frame, masonry (brick or stone) or veneer
The type of roof
Attached garages, fireplaces, exterior trim and other special features like arched windows.
A policy of title insurance is a contract of indemnity between the insured and the insuring company relating to the title to the land described in the policy, protecting the insured against loss or damage by reason of defects, liens or encumbrances of the insured title existing at the date of the policy and not expressly excepted from its coverage.
The policy is issued after a complete search and examination of the public records and shows the condition of the record title, including any money obligations outstanding against the property, easements and other matters which may affect the rights of ownership, possession, and use of the property.
Title insurance protects the "record" title, insuring it is good subject only to the exceptions expressly set out in the policy. lt also insures against certain matters which do not appear of record, such as forgery, identity of parties, incompetence of former owners, interest of missing heirs, and status of individuals not having the "right" to sell property.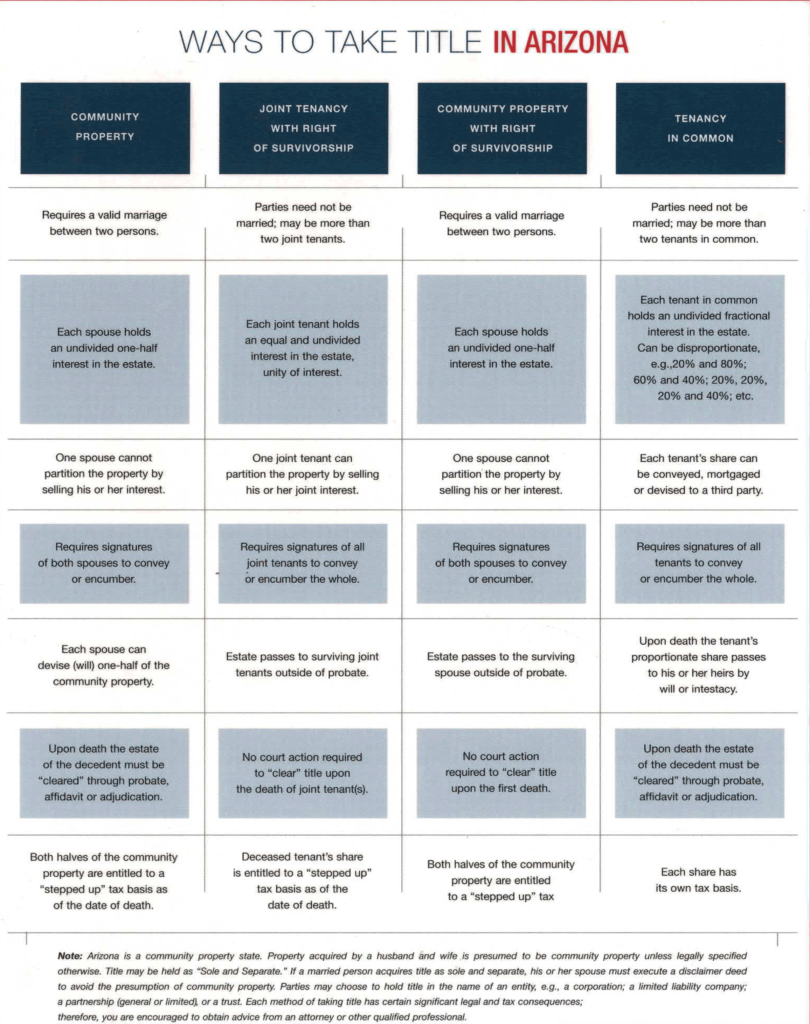 What risks aren't covered?
The standard owners policy and standard mortgage policy are based on public records of the recording district in which the land is located. It does not insure against matters which would only be disclosed by actual inspection or survey of the property. It does not insure against certain matters not shown by the public records such as unrecorded easements, liens or money obligations; unrecorded utility rights of way, public or private roads, community driveways and other types of encumbrances, or against the rights or claims of persons in possession of the property which are not shown by the public records.
Can protection be obtained against matters not of record?
Upon application, the issuing company may especially cover matters which are disclosed by a physical inspection and/or a survey of the property, subject to any exceptions which the inspection will determine to be proper. An additional risk premium is charged for this type of coverage. Insurance of this kind is called extended coverage.
How are premiums for Title Insurance determined?
Title Insurance Premiums are determined by the amount and type of coverage provided. Unlike other insurance premiums, however, the title insurance premium is paid only once as the policy is effective for so long as title or "ownership" remains in the name of the insured in, or his heirs or devises. Rates are filed with the insurance commissioner who regulates the activities of title insurers.
Flooding is not covered by a standard homeowners insurance policy.
To determine if you need flood insurance, ask your insurance professional, mortgage company or neighbors about the flood history in your area. If there is a potential for flooding, you should consider purchasing a policy that covers the structure and your personal belongings.
Flood insurance can be purchased from an insurance agent or company under contract with the Federal Insurance Administration (FIA), part of the Federal Emergency Management Agency (FEMA). Flood insurance is only available where the local government has adopted adequate floodplain management regulations under the National Flood Insurance Program (NFIP).