Meet The New Agency SEO Template From The Avada Team
Sed ut perspiciatis unde omnis iste natus error sit voluptatem accusantium doloremque laudantium.
See Our Top Notch Services
Sed ut perspiciatis unde omnis iste natus error sit voluptatem accusantium doloremque laudantium.
Our Work
Sed ut perspiciatis unde omnis iste natus error sit voluptatem accusantium doloremque laudantium.
Sed ut perspiciatis unde omnis iste natus error sit voluptatem accusantium doloremque laudantium.
Standard
5 Projects
5 GB Storage
Unlimited Users
Premium
10 Projects
15 GB Storage
Unlimited Users
Professional
15 Projects
30 GB Storage
Unlimited Users
Extreme
Unlimited Projects
Unlimited Storage
Unlimited Users
Our News
Sed ut perspiciatis unde omnis iste natus error sit voluptatem accusantium doloremque laudantium.
unitedbrokersinc_m7cmpd
Permanent mortgage rate buydowns are the tool of choice for most homebuyers to combat unaffordability, with relatively few turning to the temporary offerings that are now in vogue, Black Knight said.In the third week of January, 57% of home buyers that locked in that week paid at least 0.5 points or more to reduce their mortgage rate; a mere 3% used a temporary buydown program, Black Knight's latest Mortgage Monitor reported. Of those that took a permanent buydown, 44% paid a full point and nearly one-quarter paid two or more points.Purchases made up 81% of rate locks during that week with an average payment for a rate lock buydown of 1.16 points. At the same time, cash-out refinance borrowers paid an average of 2.06 points."If that seems high, consider that back in September and October of last year, as many as 71% borrowers paid points with 43% paying two or more points," said Ben Graboske, Black Knight data & analytics president in a press release. "Prior to the pandemic-era housing boom, borrowers in 2018-2020 paid 0.5 points with a corresponding cost of around $1,500 — as compared to $4,300 today and as high as $6,900 last fall."The uptick in the use of permanent buydowns mirrors activity in 2018 and 2019, another time when affordability was challenged, but that was a blip compared with their use today, said Andy Walden, Black Knight's vice president of enterprise research."The simple reason is the magnitude of the impact of rising home prices and interest rates in 2022, which pushed affordability to a more than 35-year low," Walden said. "Permanent buydown activity has eased modestly alongside rates and home prices in recent months but remains a popular option in today's market."While temporary buydowns have been used in the past, recently they were all but nonexistent until the second half of last year, Walden added.As mortgage rates topped 7% in November, more lenders publicized temporary buydown offerings to bring in customers, including United Wholesale Mortgage and Rocket, or other programs that lowered interest rates for a short period of time, such as Newfi's graduated payment non-qualified mortgage product.More recently, UWM brought out a promotion that allows the mortgage broker at its discretion to drop the interest rate by up to 40 basis points on an individual loan. The broker has the capability to use that tool up to a total of 125 basis points across their entire UWM pipeline."Such products may offer an opportunity for prospective homebuyers to temporarily sidestep today's affordability challenges for those who anticipate increased incomes and/or easing of rates in the future, in any case," Walden explained.Analysts at Bank of America Securities also looked at the Black Knight Optimal Blue lock data and found that on Jan. 31, a wide range existed for the rate borrowers received, ranging from a low of 4.5% to a high of 7.75%, with a median of 6%. That is slightly below the latest Freddie Mac Primary Mortgage Market Survey 30-year fixed rate average of 6.09%."We continue to believe peak mortgage rates are behind us and survey rate will drop to at least 5.25% by year-end 2023; risk is drop occurs sooner and deeper, down to 4.5%-5.0% range, in 2023," the B of A Securities report by Chris Flanagan and Henry Navarrete Brooks said.That means affordability for those getting a rate below 6% is better than the National Association of Realtors index."Borrowers with a combination of higher than median income and lower than median rate are doubly advantaged relative to the broad affordability metric, making them more likely to transact than the median borrower," Flanagan and Brooks said. "Key takeaway: due to distribution effects on mortgage rates, income, and wealth, housing activity has potential to surprise to the upside."They currently predict 0% home price appreciation for 2023, but with mortgage rates falling, the risk to that outlook is to the upside.While the 10-year Treasury initially dropped in reaction to the 25 basis point increase in the Fed Funds rate, the yields have risen back above 3.6% as of Monday morning due to the stronger-than-expected jobs report.Zillow's rate tracker put the 30-year fixed at 5.99% as of Monday morning, up 5 basis points from Friday and 29 basis points from Thursday morning.Purchase rate lock activity increased 64% in the fourth week of January from the first week, Graboske pointed out. "On the surface, it may seem the market has been stirred by a full point decline in interest rates and home prices coming off their peaks — but it's not that simple."Home prices are down 5.3% from their June 2022 peak."But affordability still has a stranglehold on much of the market, with the monthly mortgage payment on the average-priced home more than 40% higher than it was this time last year," said Graboske. "While up, purchase locks were still running roughly 13% below pre-pandemic levels for the last full week of the month."
unitedbrokersinc_m7cmpd
The Office of the Comptroller of the Currency informed banks, which it oversees, that changes have been made to Home Mortgage Disclosure Act reporting requirements.Going forward, the loan volume reporting threshold is set at 25 closed-end mortgage loans originated in each of the two preceding calendar years, according to a bulletin published on the agency's website in early February. The changes were first announced by the Consumer Financial Protection Bureau in mid-December.This marks a sharp change from the 100-loan threshold set previously by a contested 2020 HMDA rule. Going forward, more depository institutions will have to file HMDA data. The Home Mortgage Disclosure Act requires lenders to report mortgage application and origination activity on an annual basis and is one of the main tools used by regulators to uncover Fair Housing Act lending violations.The modifications to the rule, which were made following a court decision last year, revert the reporting requirements to the original 2015 CFPB regulation that established loan volume thresholds. It has been changed at least four times since 2015, with the frequent alterations prompted by banks arguing that the provisions set forth by the government watchdog have been financially "burdensome." Critics against the 2020 version of the rule, which raised the reporting obligation for banks, argued that it created an exception to HMDA's collection and reporting requirements for a class of up to 40% otherwise covered financial institutions, resulting in a loss of data.The lawsuit that upended the 2020 regulation was lodged by the National Community Reinvestment Coalition, several fair-housing organizations, and the City of Toledo.The coalition challenged the CFPB's 2020 rule as being arbitrary and capricious, contrary to the law, and exceeding the CFPB's statutory authority under the Administrative Procedure Act. Specifically, the lawsuit argued that data the CFPB relied on to justify the change to its reporting threshold was faulty. In mid-2022, a federal judge partially sided with the plaintiffs and stated that the CFPB acted unlawfully in issuing a 2020 rule exempting many mortgage lenders from reporting HMDA data.Following the decision, the NCRC issued a statement that "public data on home mortgage lending is crucial to combating modern-day redlining and other forms of illegal discrimination.""This ruling partially overturns a Trump-era rule that blocked a significant portion of the mortgage industry from reporting information about who they were approving and denying for loans," said Jesse Van Tol, president of NCRC, in a written statement. "By recognizing that the prior administration had been arbitrary and capricious, and bringing sunlight back into mortgage lending data, the court helps to vindicate the federal government's longstanding efforts to deliver equality of opportunity."In announcing the reversal, the OCC said it doesn't intend to assess penalties for failures to report closed-end mortgage loan data on reportable transactions conducted from 2020 to 2022 for affected banks that meet Regulation C requirements.The OCC in its bulletin also added that examinations conducted in affected banks regarding HMDA reportable transactions from 2022, 2021, or 2020 "will be diagnostic to help banks identify compliance weaknesses" and that collection and submission of 2023 HMDA data "will provide affected banks with an opportunity to identify gaps in and make improvements to their HMDA compliance management systems."
unitedbrokersinc_m7cmpd
A federal judge dismissed a redlining lawsuit filed by the Consumer Financial Protection Bureau against a Chicago mortgage lender, calling the case "flawed," and rejecting the bureau's argument that discrimination in home loans applies to prospective applicants. On Friday, Judge Franklin U. Valderrama of the U.S. District Court for the Northern District of Illinois, ruled that the lawsuit against Townstone Financial Inc., must be dismissed because the language in the Equal Credit Opportunity Act applies only to home loan applicants, not to prospective applicants. The distinction is important because it could limit the CFPB's authority to file redlining cases, experts said. Judge Valderrama rejected the CFPB's allegations that Townstone's President and CEO Barry Sturner's remarks on a radio show had discouraged prospective applicants in Chicago from applying for home loans."The Bureau seeks to improperly expand the reach of ECOA to reach 'prospective applicants,' to regulate behavior before a 'credit transaction' even begins, and to create affirmative advertising and hiring requirements, which cannot be squared with the unambiguous language of the statute," the judge wrote.  Rohit Chopra, director of the Consumer Financial Protection Bureau. Photographer: Ting Shen/BloombergTing Shen/Bloomberg The judge also ruled that the comments amounted to free speech. "Contrary to the First Amendment of the United States Constitution, the Bureau seeks to regulate the content and viewpoint of protected speech and does so in a way that is unconstitutionally overbroad and vague both as applied to Townstone and facially," Valderrama wrote. Still, the dismissal of the CFPB's case may have a limited impact because the Department of Justice and the Department of Housing and Urban Development are the two main federal agencies, along with the CFPB, that typically file redlining cases under both ECOA and the Fair Housing Act, some experts said. The CFPB declined to comment on whether it plans to appeal. The case was dismissed with prejudice, meaning the CFPB cannot file the same case again. Lawyers for Townstone said the ruling could have a more far-reaching impact than just fair lending cases. Steve Simpson, senior attorney at Pacific Legal Foundation, said the district court did not give deference to the CFPB's allegations that lenders can be liable for discriminating in marketing to potential borrowers."It kind of drives a truck through the centerpiece of what the CFPB — and by extension the DOJ — have used in a lot of their fair-lending cases, which we call "marketing discrimination," because it's a ridiculous legal theory," Simpson said. "But even beyond that, the case has implications for administrative law and separation of powers cases going on across the country, even outside the fair-lending context."Judge Valderrama, a Trump appointee, specifically pushed back against the issue of "Chevron deference," a doctrine borne of a 1984 U.S. Supreme Court case that granted federal agencies a wide berth in interpreting ambiguous congressional statutes. Chevron deference has come under significant scrutiny by several justices on the Supreme Court that have expressed skepticism of administrative agencies. In dismissing the case, Judge Valderrama wrote: "The scope of liability created by an expansion of ECOA to include 'prospective applicants' is unreasonable and unworkable. When a statute is unambiguous, agency regulations, or statutory interpretations are not entitled to deference. To the extent [Regulation B] and/or the Bureau attempt to regulate behavior relating to 'prospective applicants,' no deference should be given to Reg. B or the Bureau's interpretation."The CFPB's investigation of Townstone began in 2017 and the company was forced to downsize from a mortgage lender to a mortgage broker because of the cost of five years of defending itself, lawyers said. "It took so many resources to fight this government overreach," said Richard Horn, co-managing partner at Garris Horn LLP. "The power to investigate is the power to destroy and government overreach has a huge impact on companies."
What Our Clients Say
Ability proceeds from a fusion of skills, knowledge, understanding and imagination, consolidated by experience.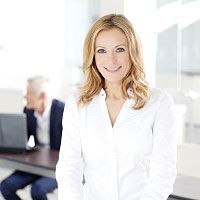 Beauty is when you can appreciate yourself. When you love yourself, that's when you're most beautiful.